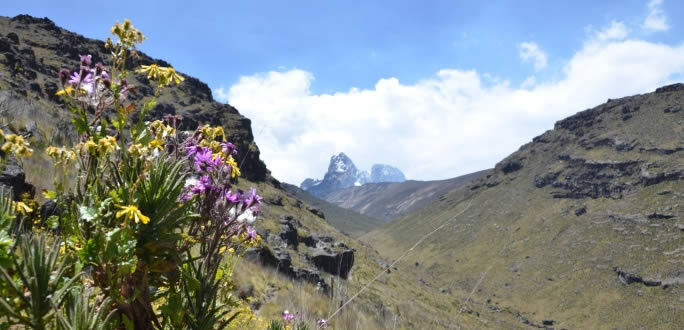 DAY 1
Leave Nairobi by a Safari Vehicle accompanied by our mountain guide for lunch. Spend the remaining part of the day acclimatizing due to the sudden change of altitude. Dinner and overnight at a hotel in Nanyuki.
DAY 2
Transfer from Your Nanyuki after breakfast to the Sirimon gate where the climbing starts. Walk through the rain forest for 9 kms (5 hours walk) to the first mountain hut – Old Moses (3500m)for dinner and overnight.
DAY 3
After breakfast in Old Moses, continue climbing through Mackinders Valley to the second hut Shipton hut (4200m) for dinner and overnight.
DAY 4
Early in the morning, we climb to point Lenana 4985m(17,058ft). On a very clear day, we should be able to see Mount Kilimanjaro in the south, Mount Elgon to the west and Indian Ocean to the east. We descend to Shipton camp for main breakfast and soon after, descend to Old Moses for the night.
DAY 5
After breakfast, transfer from Old Moses to catch transport to Nairobi where the tour ends.