RWANDA / UGANDA PACKAGE

Day 1:
Arrival at Kigali Airport you will meet and greet the driver / guide for transfer to the Volcanoes national Park, depending on your time of arrival.
Day 2 :  Volcanoes National Park 
Depart the hotel to arrive at the ORTPN office at 7.00am.
The Gorillas you will track belong to one of seven habituated family groups who can tolerate the presence of humans for a brief period every day. The tracking takes you along forested slopes, with entwined vines, bushes and bamboo. The guide who accompanies you on this activity also provides you with a lot of information as pertains to the Gorilla activities and way of life.
Once the Gorillas have been located, you will be allowed a maximum of one hour with them. Coming face-to-face with a Mountain Gorilla is a truly humbling and emotional experience. After lunch relax at the hotel. Overnight at Gorillas Nest Lodge F/B
Day 3: Diane Fossey Tomb+Karisoke Research Center
After morning wake-up call and breakfast, we again report at the ORTPN office at 7.00am all set for the walk to visit Diane Fossey tomb and Karisoke Research Center. After the trek, have lunch at the lodge and afterwards proceed for a cultural visit. Overnight at Gorillas Nest Lodge F/B

Day 4: Golden Monkeys Tracking
An early start again at 7.00am to track the rare and endangered Golden Monkeys. Despite the prolific number present, Golden Monkeys are shy, very quick and known to hide in the tops of the trees. Keep your cameras and binoculars ready!
Do note that the tracking can at times take a shorter or longer time depending on the conditions.. On this day we also depart with packed lunch for your transfer to Uganda to Kisoro to arrive for overnight at Clouds Gorilla Lodge F/B:
Day 5
Today, prepare yourself for a second encounter with the Mountain Gorillas at Bwindi Impenetrable Forest which boasts of Mountain Gorillas the only forest in Africa which can make this claim in fact. It also hosts five other species of primates. From Buhoma there are three different gorilla groups that can be visited each day. Sometimes you can see the gorillas easily depending on the gorilla group you are in sometimes it takes as long as 6 hours.Overnight at Clouds Gorilla Lodge.F/B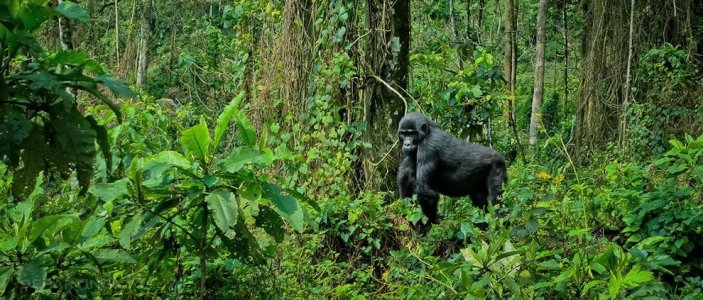 Day 6
After breakfast, you pick up your packed lunch and proceed to the southern part of Queen Elisabeth N.P. This area is called Ishasha and is famous for its tree-climbing lions. You will have an en-route game drive in ishasha and then you continue your journey to the northern part of Queen Elizabeth National Park. This is Uganda's second largest park and is located at the base of the majestic Rwenzori Mountain range, adjacent to Lake Edward and Lake George. Have dinner at the lodge and then proceed for a further game drive from 7:00-10pm. Overnight at Katara lodge F/B
Day 7
An early start to the day for an early morning game drive.The park has prolific game, including Gazelle, Uganda Kob, Warthog and Waterbuck, Lions, Elephant and Buffalo. You return to the lodge for a late breakfast around 10.30 a.m.
In the afternoon, you will take a boat trip along the natural Kazinga Channel. Here, you will see a lot of hippos, as well as a variety of other animals which come to the waterhole to drink or bathe. You can expect to see: Buffalo, Crocodile, Elephant, and a range of beautiful birds. Have dinner and then proceed for a further night game drive. Overnight at Katara Lodge F/B
Day 8
After breakfast leave Queen Elizabeth N.P. The drive to Kibale Forest N.P. takes you only a few hours. The drive is incredibly scenic, passing tea plantations and the lush green countryside which characterizes so much of Uganda. There are several primate species here such as Olive Baboon, red tailed monkey, Colobus monkey, Chimpanzees and many others. The park also has a prolific bird life. Have a break for lunch, which will be followed by a swamp walk for about 2-3 hours, which gives you a chance to see many more birds.
Overnight at Primate Kibale LodgeF/B
Day 9
In the early morning at 5.30 a.m. you transfer to the UWA Headquarters in Kibale Forest National Park. Today, you will spend an entire day with one of the Chimpanzee communities; from the moment they leave their nests in the early morning till they create new nests and go back to rest in the early evening. Discover their daily habits, how they interact, feed, play. Overnight stay at Primate Kibale LodgeF/B
Day 10
Early morning after breakfast transfer from Kibaale to Murchision falls national park. Check in at Paraa Safari lodge and relax, have lunch and then in the evening visit the magnificent Murchision falls national park. Overnight at Paraa Safari Lodge F/B

Day 11
Early morning proceed to the northern part of the park for a game drive. View Elephants, Buffaloes, Bushbucks, Lions, and a variety of bird species. After lunch at 3pm, go for a  boat cruise which takes about 3 hours. On this cruise you will be able to see hippos, crocodiles and many other animals and bird species. Dinner and overnight at Paraa Safari Lodge F/B.

Day 12
Have an early breakfast at around 7:00 am transfer from Murchision falls back to Kampala with lunch en-route and on to Jinja arriving in the late evening. Overnight at Wildwaters Lodge B/B