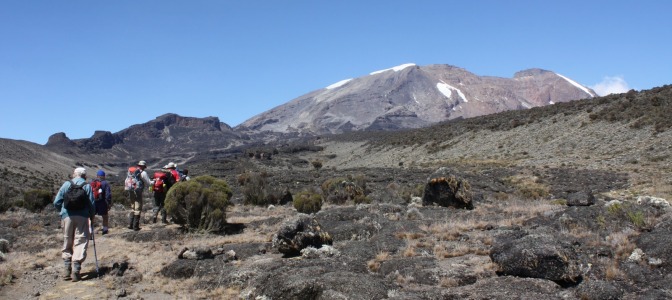 Day 1. Moshi.
Depart Nairobi at 8.00 hrs via Arusha for Moshi arriving late evening around 5.30 pm. Dinner and overnight at a Hotel in Moshi.
Day 2. Machame Hut.
Drive to Machame village , The climb starts at the end of the tarmac road. Walk through shambas (farms) then forest to the Machame hut(3000m,6hours).
Day 3. Shira Hut.
Continue along the steep ridge going on to rock ridges and through heather. The route turns west into a river gorge, reaching Shira hut (3800m,5hours).
Day 4. Baranco Hut.
Continue east towards the lava tower. Shortly after this, You descend to Baranco Hut.(3940m,4hours).
Camping on the slopes of the Mountain
Day 5. Barafu Hut.
A short scramble to the top of the great Baranco and then a traverse overscree and ridge to the Karanga Valley 4000m,3 hours.. Beneath the icefalls of the Heim, Kersten and Decken glaciers, After climbing out the Karanga Valley the trail ascends a ridge to the Barafu Hut. A bleak location with little vegetation at 4600m,3hours walking.
Day 6. Barafu hut.
An early start for the ascent to the rim of the Kibo Crater between the Rebbmann and Ratzel Glaciers 4hours.the last section before the rim can sometimes be snow- covered and an ice axe or ski-stick is useful for balance. From here a further hour leads to uhuru peak, from where there are often fine views of Mt.Meru to the west and the jagged peak of Mawenzi to the east. Descend to the Barafu hut in the giant heather zone on the forest edge, those with energy on the summit may wish to descend to the Reutsh Crater and visit the dramatic ice pinnacles of the eastern icefields.
Day 7. Barafu hut – Moshi
A three to four hour descend through beautiful forest brings you to the park gate and your waiting transport back to the Hotel for overnight.
Day 8. Arusha.
Depart after breakfast , transfer back to Arusha.
Bookings