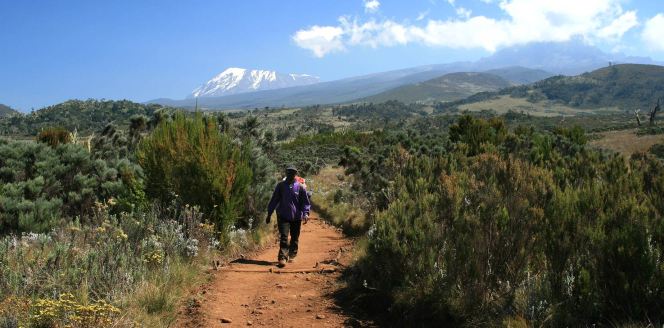 DAY 1: ARUSHA -MARANGU
Depart Arusha and transfer to Capricon Hotel based at the foot of the mountain. Dinner and overnight at Capricon Hotel.
DAY 2: MARANGU – MANDARA HUT (2,744 M)
Distance: 9 kms. Estimated duration: 4 hours.
Depart from your hotel, drive straight to Marangu National Park gate, where the climb begins (1860m) on the edge of the mountain forest. Walk through the semi tropical dense rain forest, with camphor, cedar, juniper, wild olive and pillar trees festooned with lianas, lichens and Spanish moss. Flowers of various species delight the eyes, while monkeys shake trees and terraccos and other colourful forest birds sing in the forest profusion. The walking takes 4 hours covering 9 km to Mandara Hut, at 2744 m near Maundi Crater. Dinner and overnight at Mandara Hut.
DAY 3: MANDARA HUT – HOROMBO HUT (3,761 M)
Distance: 11kms. Estimated duration: 5 hours.
Starting early in the morning towards Horombo Hut you walk 5 hours, to cover the first 4 km or so, the dense rain forest now gives way to the rolling moorland, clothed in knee-high grass tussocks dotted here and there with giant heather trees, some standing upto 9 m high. Here is perhaps the most pleasant point, where the landscape is decorated with tropical flowers and the sun is refreshingly warm. From here, both Kibo and Mawenzi Peaks are magnificently viewed. Some animal species are found here, i.e. bush duikers etc. The landscape becomes more rugged and rocky, as you continue to Horombo Hut at 3761 m above sea level. Dinner and overnight at the Horombo Hut. You should have warm clothes due to strong winds here.
DAY 4: HOROMBO HUT – KIBO HUT (4,700 M)
Distance: 10kms. Estimated duration: 5 hours.
After breakfast, continue to Kibo Hut through the euphorbia trees and here high altitude causes difficulty in breathing and tiredness is felt. The path leading you to Kibo Hut passes the water streams and skirts MAWENZI before opening out into the lunar landscape of the saddle. It forms a "U" between MAWENZI and KIBO Peaks. You will experience the winter nights as cold and icy winds encircle the huts accompanied by frost and snow. Dinner and overnight at KIBO Hut.
DAY 5: UHURU PEAK – HOROMBO HUT (3,761 M)
Distance: 24kms. Estimated duration: 12-13 hours
Wake up soon after midnight for the final attempt to the summit. Walk for about 5 hours, the steepest and most difficult part of the route, to GILMAN'S POINT at 5681 m above sea level, on the Crater rim. Try again if your stamina allows, for UHURU Peak, reached in about 2 hours. This is the highest point in Africa. After signing the visitors book, descend to Horombo Hut, for dinner and overnight.
DAY 6: HOROMBO HUT – MARANGU HOTEL
Morning descend to Capricon Hotel where the afternoon will be at leisure. Dinner and overnight at Capricon Hotel.
DAY 7: MARANGU – ARUSHA
Drive back to Arusha.